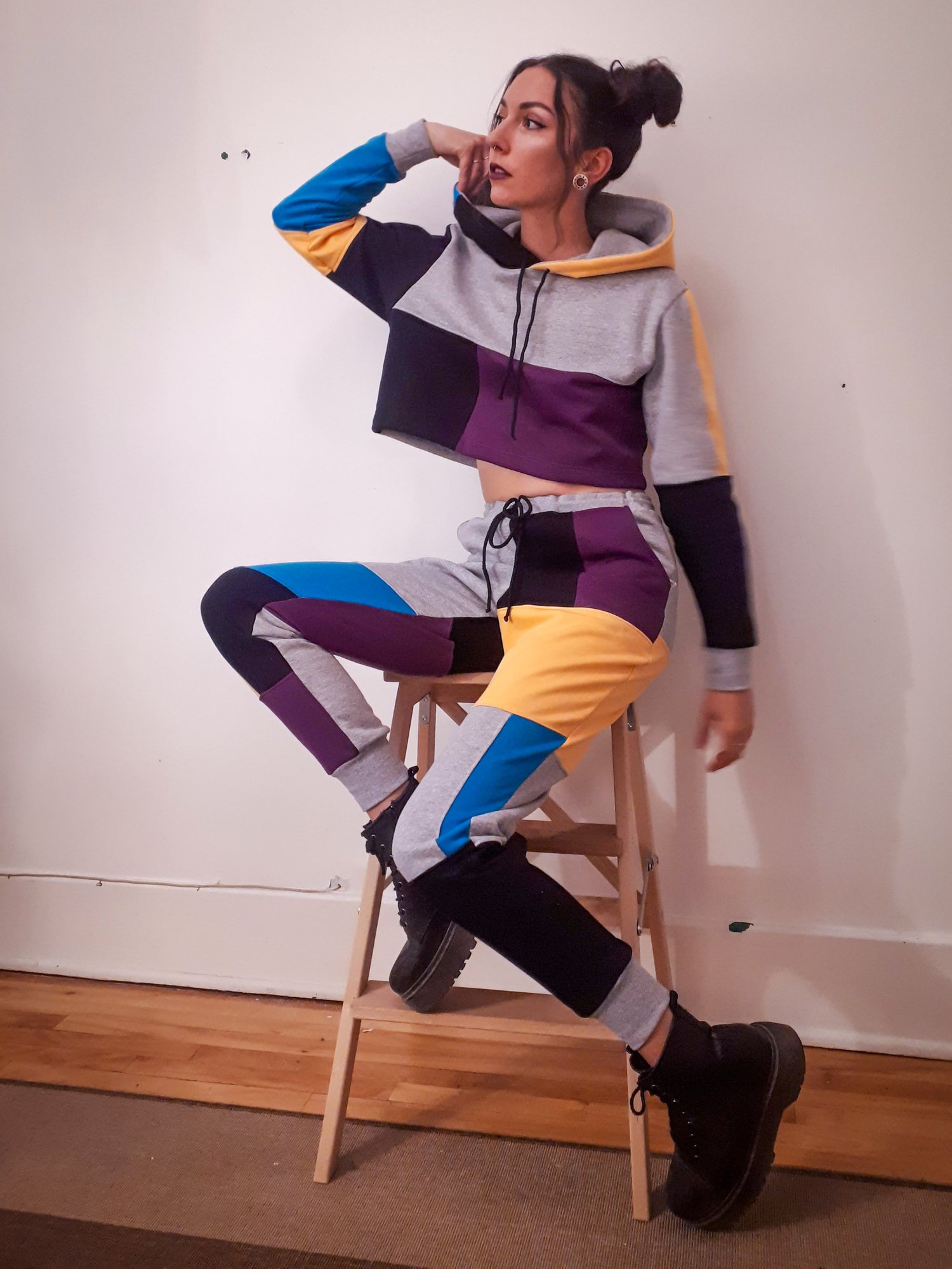 CUSTOM Choose Your Own Fits Patchwork Sweatsuit
***PLEASE READ***
Listing to have your very own patchwork sweatsuit made in colours and sizing of your choice!
Made from a combinations of cotton fleeces, bamboo fleeces and french terries. So cute and comfy at the same time and versatile as I can imagine each piece could be worn on their own.
How to order:
1. Choose average size and choose top design and bottom design as separate items in your cart. Input measurements as shown in the last two photos in notes section at check-out:
Bust: Around widest part of boobs
Underbust: Around ribs just under boobs
Waist: Around smallest part of torso or where you would wear the waistband of high waist bottoms
Hips: Around widest part of butt(can be lower than you would think)
Rise: From lowest point of crotch to waist
Additionally for pants:
Thigh: Circumference around widest part
Calf: Circumference around widest part
Ankle: Around just above ankle bone
Rise: From lowest point of crotch to waist
Inseam: From crotch to ankle bone on inside of leg.
***Note about images and sizing:
-Pants an hoodie sets are small model wearing medium fits so this would be call "Relaxed Fit*
-Second set has a bit added to the waistband so it can be worn high waisted or low waisted. If this is something you would like make sure to specify in personalizations section!
-Yellow and white shorts and hoodie set is small model in size small and this is "Fitted"
-Green, Grey, Purple, Peach in second and third image is fitted shorts and relaxed fit hoodie.
***Please let me know what type of fit you are looking for in personalizations section otherwise I will default to fitted.
2. Also include in notes 3-5 colour options from the chart in the images and one ribbing colour. Feel free to message me to request mock-ups to help choose colour combos.
***PLEASE check messages daily as these types of customs require a good amount of back and forth communication
3. Sit tight. Customs can take a bit longer to make but it will be made in exactly your colour choices and sizing so it's definitely worth it